Over 52, 5 star reviews
Silt Fence Rolls
Available in Green or High Vis Orange in 50m, 100m or 500m rolls
High quality UV stabilised woven silt fence material with an approximate  2 year life expectancy. Available in 3 roll sizes: 87cm x 50m, 87cm x 100m and 87 x 500m Rolls, Silt Fences are available in high visible orange or standard green.
Taking action to ensure that your work does not have an adverse effect on the environment is one of the most fundamental aspects of modern business and doing so does not have to be a difficult or expensive process. With safety fencing and other useful environmental management tools and equipment, you can easily ensure that your activities not only uphold your ethical obligation to limit the impact you have on the local ecosystem but also that you are fully compliant with all the federal and local regulations which exist to ensure that the natural work is protected.
Buy a Quality Safety Fence for Your Business Online Right Here
If your work brings you into regular contact with construction sites, you will undoubtedly already know that the drifting of potentially harmful sediment down to rivers, streams and other protected environments is one of the most frequent problems encountered. With the help of a quality safety fence such as those on offer here at Aussie Environmental, you can be sure that it will be easier than it has ever been before to keep any harmful contaminants away from nearby wildlife.
Why Choose Aussie Environmental for Your New Safety Barrier?
Founded in 2010, Aussie Environmental is based here in Yandina, Queensland. Over the years, we have built a strong reputation as one of Australia's leading specialists in erosion control in Australia, and our hi vis fence solutions are a great option for businesses looking to make sure that their construction activities do not affect the local environment. We have an excellent range of hi vis fencing products, all of which are available at highly competitive prices.
All you need to do is insert the safety barrier into the ground around your site and the filter fabric will prevent any larger sediment or other potential pollutants from passing down towards protected areas. For businesses wishing to be as environmentally friendly as possible during their projects, we also offer 100% biodegradable hi vis barrier products made from jute geotextile, providing the total peace of mind that comes with knowing that your work is posing the least possible risk to environmental health.
Contact Us to Find Out More or Place an Order Today
With such a huge range of versatile products on offer, it can sometimes be hard to decide which one is right for your business. If you would like any help and assistance whatsoever when it comes to choosing your product, feel free to take advantage of the friendly and helpful customer service we offer. Aussie Environmental's team will be more than happy to work closely with you to provide personalised advice, so you can be sure that the product you select is ideally suited to the requirements of your business.
Otherwise, if you are ready to place your silt fence order, just select the product you would like to purchase and enter some basic payment and delivery information using our online e-store. We can arrange for deliveries all across Australia, and to find out how much shipping will cost in your local area you can make use of our handy shipping calculator. Then simply place your order and we will have your new product sent to you as swiftly as we can.
Read More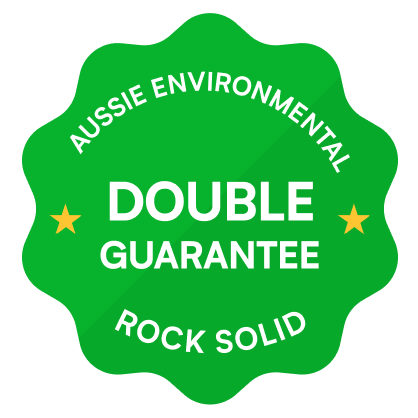 You're Covered By Our 14-Day Money-Back Guarantee
Worried about ordering online? Afraid of getting the wrong product? Our certified erosion and sediment control experts work tirelessly to ensure you get the right product for your needs, the first time around. But just in case, we also protect you with our 14-day money-back guarantee!

If you don't like your product, simply send it back to us in an unused and resalable condition in 14 days. We'll refund you every cent you paid, no questions asked!
Queensland's Largest Supplier Of Direct-To-Consumer Environmental Products
If you can't find the right solution at Aussie Environmental, chances are it doesn't exist! We only provide the highest quality products across our enormous range… and we import nearly all of them ourselves. That means you'll get a reliable solution that makes light work of your issue… and you'll get it for a crazy, direct-to-consumer price!
15+ Years Experience

The Largest Range Of Environmental Control Products
Affordable Freight And Shipping To Anywhere In Australia
As an Aussie owned and operated company, we want to serve our country right. That's why we provide affordable freight and shipping Australia-wide. In the unlikely event you're unhappy with your freight cost, simply get in touch with our friendly team. We'll see if we can find you a better option, to get your product delivered on time and on budget!
Independently Imported

US Standard Products
Why We're Your Best Bet For Environmental, Erosion, And Sediment Control…
| Features | | The Rest |
| --- | --- | --- |
| Largest Product Range In Queensland | Yes | No |
| Exclusive Supplier Of Select Products | Yes | No |
| Shipping Australia Wide | Yes | Sometimes |
| Direct-To-Consumer Prices | Yes | No |
| High Quality, Sustainable Products | Yes | Sometimes |
| Recommendations From Certified Experts | Yes | No |
| Australian Owned And Operated | Yes | Sometimes |
| 14-Day Money-Back Guarantee | Yes | No |
| 10% Off Your First Order | Yes | No |