Over 52, 5 star reviews
Geofabric - Class A, 150gsm
Available in 3 rolls sizes (1m x 50m, 2m x 50m & 4m x 50m) - Grey-Charcoal Coloured
Geofabric is a permeable tough synthetic geotextile, ideal for use in drainage, filtration, separation and protection. It is a durable and cost-effective engineering solution that can be applied to retaining walls, embankments, plumbing & landscape drainage and filtration among other uses. The material is a polyester based geotextile that is robust and designed for heavy duty use.
If you have issues with soil erosion or stability, you may benefit from our range of geofabrics. They are porous, permeable material made from highly durable polyester fibres resistant to rot which help ground layers with drainage and soil stability. Geofabric rolls, also known as bidim, are one of the best ways of maintaining soil stability at risk from groundwater and provide an effective solution to drainage without undermining the ground.
Do You Need Geofabric for Your Land?
As a leading supplier of geofabric online from Sunshine Coast in Queensland, we're pleased to offer this important solution to soil erosion to a diverse range of businesses and individuals all across Australia. We've provided our exceptional products and exceptional service to builders, property managers, private residences, landscapers and road maintenance teams throughout the country. With an expert understanding of environmental compliance and land management, our geotextiles are just the fix you may need!
The Benefits of Our Geotextile Fabric
Our geo fabric is designed for durability. As a polyester-based material, it is popular with those who need robust and long-lasting drainage without having to spend every year to have it replaced.
The main uses of this textile are:
Filtration – Keeping the water flowing through the soil without losing mass. Soil particles can move and migrate or be lost as groundwater or runoff moves through the earth and this can undermine the capacity of the soil. Furthermore, our fabrics protect drains from clogs or blocks. Can be seen in our silt socks.
Drainage – Our geofabrics act as drains in themselves. They are especially useful in directing water flow to further drainage systems or water collection works allowing the dissipation of pore water pressure which can damage engineering structures.
Separation – Prevent two different materials or soils from intermixing. This is important for engineering structures that require certain types of earth or soil. For those who work in road building, for instance, require the ground structure to maintain the performance of its individual materials.
Protection – Our materials are used in conjunction with other membranes to keep destructive elements and pollutants from entering into water supplies or areas that require protection. For this reason, they are often used in landfills, dams or ponds, in conjunction with waterproof materials. They can protect other materials from puncture or damage and aid reinforcement of the surrounding soil structure and even used as tree guards.
High-Quality Geo Fabric Available From Aussie Environmental
When it comes to erosion control, it is always a good idea to find materials that will be durable and cost-effective. Erosion control mats often undergo a lot of punishment and as a result, they can sometimes be very expensive. However, many contractors are increasingly turning to geofabric as a smart, affordable solution.
Get Your Geo Fabric Order In Online Today!
If you want to know a little more about what Aussie Environmental has been up to, what projects we've been working on, or how our products have helped customers like yourself, just head over to our gallery. You can also take a look at our social media accounts and pick up some great tips and advice in using your item.
Otherwise, get your geofabric roll order in today and we'll send it right out to you so you can finish your project!
Read More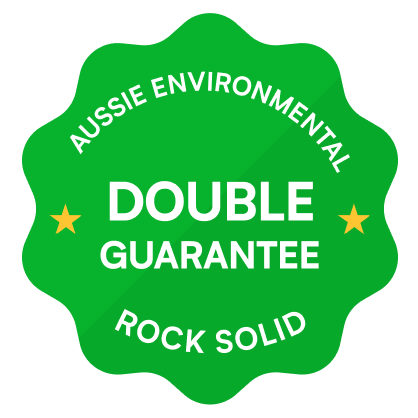 You're Covered By Our 14-Day Money-Back Guarantee
Worried about ordering online? Afraid of getting the wrong product? Our certified erosion and sediment control experts work tirelessly to ensure you get the right product for your needs, the first time around. But just in case, we also protect you with our 14-day money-back guarantee!

If you don't like your product, simply send it back to us in an unused and resalable condition in 14 days. We'll refund you every cent you paid, no questions asked!
Customer Reviews
Geofabric - Class A, 150gsm
Good product, efficient service and a price I was happy with. Well done guys.
Queensland's Largest Supplier Of Direct-To-Consumer Environmental Products
If you can't find the right solution at Aussie Environmental, chances are it doesn't exist! We only provide the highest quality products across our enormous range… and we import nearly all of them ourselves. That means you'll get a reliable solution that makes light work of your issue… and you'll get it for a crazy, direct-to-consumer price!
15+ Years Experience

The Largest Range Of Environmental Control Products
Affordable Freight And Shipping To Anywhere In Australia
As an Aussie owned and operated company, we want to serve our country right. That's why we provide affordable freight and shipping Australia-wide. In the unlikely event you're unhappy with your freight cost, simply get in touch with our friendly team. We'll see if we can find you a better option, to get your product delivered on time and on budget!
Independently Imported

US Standard Products
Why We're Your Best Bet For Environmental, Erosion, And Sediment Control…
| Features | | The Rest |
| --- | --- | --- |
| Largest Product Range In Queensland | Yes | No |
| Exclusive Supplier Of Select Products | Yes | No |
| Shipping Australia Wide | Yes | Sometimes |
| Direct-To-Consumer Prices | Yes | No |
| High Quality, Sustainable Products | Yes | Sometimes |
| Recommendations From Certified Experts | Yes | No |
| Australian Owned And Operated | Yes | Sometimes |
| 14-Day Money-Back Guarantee | Yes | No |
| 10% Off Your First Order | Yes | No |