Over 52, 5 star reviews
Jute Mesh - Roll 1.22m x 68m
Jute Mesh (also referred to as Soil Saver) is an organic biodegradable open weave erosion control mesh. It is suitable for short term erosion protection ranging from application on batters to open drains with a life expectancy of 6-12 months depending on climatic conditions. Jute Mesh helps retain moisture and allows water and light infiltration to encourage vegetation growth.
Need To Find Jute Mesh Online?
The use of jute mesh and fabric in reducing soil erosion is well established. It can act as a filter and a buffer against difficult climatic conditions. Many plastic meshes can be quite harmful to the environment as they don't break down. As a result gardeners and landscapers are turning to more traditional biodegradable fabrics to help them with their landscaping. Our 100% biodegradable jute mesh is available all across Australia. Since 2010 we've been working out of our base in Yandina, Queensland, and have supplied and offered services to a large array of different clients. This includes civil contractors, government departments, and private landowners, and in each case, we've gone above and beyond in delivering a high quality, eco-friendly service. Order from us today and find out for yourself!
The Benefits Of Jute Mesh
Jute has been used as a highly adaptable material for many centuries. It is no wonder that it has become increasingly well used in horticulture and landscape design, and with good reason. It is a natural material that is 100% biodegradable and fantastic at retaining mulch for new growth. It can also be very durable and works great at combating short term erosion.
We sell our Jute Mesh in a few ways:
By the brick
By the roll
As a bale
If you have a specific large amount you need, then please do give us a call and we can work out the best option for you.
Get Your Jute Mesh For Sale In Queensland At Aussie environmental
Whatever project you are working on, you'll likely be keeping one eye on your budget and another on the time it is going to take. That's why we've decided to cut out any agents or distributors when supplying our products. We hold all our products in stock at our Yandina depot so we can ship your order as soon as you place it.
We're always on hand to help you with your purchase. If you aren't sure which jute matting or other soil erosion protection products are most applicable to your property just pick up the phone and call us and we'll be right here ready to help you. Our team has experience of a huge variety of different properties and installations, so we'll know just the right item for you. Alternatively, send us an email and we'll get back to you right away.
Make Your Jute Mesh Order Today!
Aussie Environmental had loads of great customers over the years and they've left us some very kind reviews on Google. You can also get an idea of how well our environmental products work from our gallery and you can also follow us on our social media accounts where you'll find some great tips and advice when it comes to installation of erosion control measures.
Otherwise, make your jute mesh order today and we'll get it right out to you, wherever you are, for whenever you need it!
Read More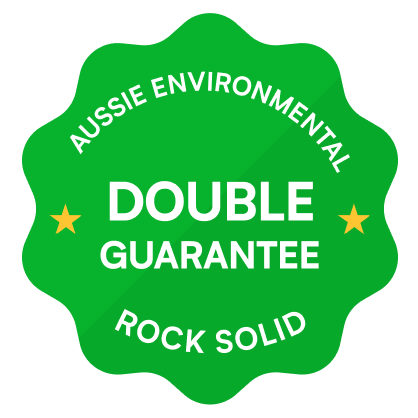 You're Covered By Our 14-Day Money-Back Guarantee
Worried about ordering online? Afraid of getting the wrong product? Our certified erosion and sediment control experts work tirelessly to ensure you get the right product for your needs, the first time around. But just in case, we also protect you with our 14-day money-back guarantee!

If you don't like your product, simply send it back to us in an unused and resalable condition in 14 days. We'll refund you every cent you paid, no questions asked!
Customer Reviews
Very happy with everything :)
From the initial contact with your customer service staff, to the delivery turnaround time and delivery driver helping me with the bulky rolls of Jute Mesh, everything was perfect and a great experience from your company.
We have to purchase much more in the future for our 5acre property landscaping, so I will definitely be contacting your staff again for more purchases.
Thank you for the great customer service and quick order turnaround times.
Greatly appreciated.
Kind regards,
Dianne White
Queensland's Largest Supplier Of Direct-To-Consumer Environmental Products
If you can't find the right solution at Aussie Environmental, chances are it doesn't exist! We only provide the highest quality products across our enormous range… and we import nearly all of them ourselves. That means you'll get a reliable solution that makes light work of your issue… and you'll get it for a crazy, direct-to-consumer price!
15+ Years Experience

The Largest Range Of Environmental Control Products
Affordable Freight And Shipping To Anywhere In Australia
As an Aussie owned and operated company, we want to serve our country right. That's why we provide affordable freight and shipping Australia-wide. In the unlikely event you're unhappy with your freight cost, simply get in touch with our friendly team. We'll see if we can find you a better option, to get your product delivered on time and on budget!
Independently Imported

US Standard Products
Why We're Your Best Bet For Environmental, Erosion, And Sediment Control…
| Features | | The Rest |
| --- | --- | --- |
| Largest Product Range In Queensland | Yes | No |
| Exclusive Supplier Of Select Products | Yes | No |
| Shipping Australia Wide | Yes | Sometimes |
| Direct-To-Consumer Prices | Yes | No |
| High Quality, Sustainable Products | Yes | Sometimes |
| Recommendations From Certified Experts | Yes | No |
| Australian Owned And Operated | Yes | Sometimes |
| 14-Day Money-Back Guarantee | Yes | No |
| 10% Off Your First Order | Yes | No |