Over 52, 5 star reviews
Retaining Pins / Weed Mat Pins
Available in 100mm, 150mm, 200mm or 300mm lengths
U Shaped Retaining Pins are ideal for the installation process in erosion control blankets, mats and meshes. Pins are made from a strengthened steel with sharpened points for easy insertion into the ground. The 'U' width of the pin is 35mm while the steel pin is 4mm in thickness. Pins are available in four sizes ranging from 100mm to 300mm in length.
We can't just let our big protection products get all the glory when it comes to minimising the impact of soil erosion, because they wouldn't be as effective without the help of our sturdy mat retaining pins to hold them in place. At Aussie Environmental, we are passionate about equipping our clients with high-quality affordable environmental products that help them to prevent erosion on commercial projects or residential land. We are one of the top suppliers of erosion prevention products, including retaining pins in Queensland.
Why Buy Your Retaining Pins For Sale In Queensland From Us?
If you're looking to buy retaining pins online then you shouldn't look any further than Aussie Environmental. Here are just some of the reasons why you should buy your environmental products from us:
Trusted across Australia: We have been working across the country for over a decade and in our time, we have built wonderful relationships with local communities, councils and developers. We are a local erosion control brand in Australia at heart, and we are incredibly proud to supply Australians with the high-quality products that they need to protect the environment.
Large range: We have the most expansive range of specially designed environment control products and service in South East Queensland. If you're looking for something specifically for soil erosion and stabilisation, you know we have it.
Customer care: Our customers are at the heart of our business and you know that when you shop with us that you'll be met with friendly faces and expert knowledge.
Affordable prices: Many of our products require innovative thinking and modern technology but that doesn't mean that they are out of the reach of ordinary Australians. We pride ourselves on supplying affordable, high-quality products for use across the country.
We do bulk pricing: We love to cater to everyone at Aussie Environmental. So whether you need products like metal pegs for your new garden project or geofabric for a massive housing development project, we've got you covered. We do offer bulk prices on our products; all you have to do is get in touch with one of our expert customer service team members and they'll talk you through it.
Get Your Mat Retaining Pins Online From Aussie Environmental
At Aussie Environmental, we have the most efficient type of mat retaining pins to suit your needs:
U-Shaped retaining pins: Our U-shaped retaining pins are made of 4mm thick strengthened steel. The sharpened ends make them easy to install and they are made to be durable and long-lasting for long-term projects. These are the perfect choice for hard, compact soil.
Buy Your Retaining Pins & Other Protection Products Today
At Aussie Environmental, we have a huge range of environmental control and soil erosion protection products for you to choose from. You can either buy straight from our site or simply get in touch with us and we'll be happy to chat about any questions you have about retaining pin or any other product to suite your needs.
Read More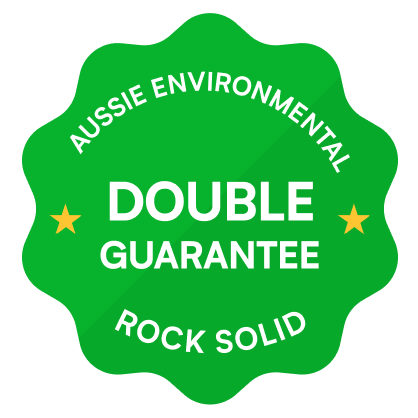 You're Covered By Our 14-Day Money-Back Guarantee
Worried about ordering online? Afraid of getting the wrong product? Our certified erosion and sediment control experts work tirelessly to ensure you get the right product for your needs, the first time around. But just in case, we also protect you with our 14-day money-back guarantee!

If you don't like your product, simply send it back to us in an unused and resalable condition in 14 days. We'll refund you every cent you paid, no questions asked!
Customer Reviews
Great Weed Mat Pins
We have used these pins and they do the job. They are U shaped with two prongs going into the ground and so they do tend to rotate when you are hammering them in. I just held onto them until they were near the ground and the advantage of the u shape in that hold the fabric down securely.
Highest quality erosion matting
I searched the internet for a good quality erosion matting and finally came up with Aussie Environmental Solutions. I highly recommend their products and the service is great too. Compared to what you pay for the cheaper version, the couple of extra dollars you pay gives you the best quality matting and pins you could ever ask for. Glad I persevered to find the perfect solution.
weed mat pins
They are very effective but very dirty
Great service
It was a very simple transaction,
no fuss.
fast shipping.
Queensland's Largest Supplier Of Direct-To-Consumer Environmental Products
If you can't find the right solution at Aussie Environmental, chances are it doesn't exist! We only provide the highest quality products across our enormous range… and we import nearly all of them ourselves. That means you'll get a reliable solution that makes light work of your issue… and you'll get it for a crazy, direct-to-consumer price!
15+ Years Experience

The Largest Range Of Environmental Control Products
Affordable Freight And Shipping To Anywhere In Australia
As an Aussie owned and operated company, we want to serve our country right. That's why we provide affordable freight and shipping Australia-wide. In the unlikely event you're unhappy with your freight cost, simply get in touch with our friendly team. We'll see if we can find you a better option, to get your product delivered on time and on budget!
Independently Imported

US Standard Products
Why We're Your Best Bet For Environmental, Erosion, And Sediment Control…
| Features | | The Rest |
| --- | --- | --- |
| Largest Product Range In Queensland | Yes | No |
| Exclusive Supplier Of Select Products | Yes | No |
| Shipping Australia Wide | Yes | Sometimes |
| Direct-To-Consumer Prices | Yes | No |
| High Quality, Sustainable Products | Yes | Sometimes |
| Recommendations From Certified Experts | Yes | No |
| Australian Owned And Operated | Yes | Sometimes |
| 14-Day Money-Back Guarantee | Yes | No |
| 10% Off Your First Order | Yes | No |