Over 52, 5 star reviews
Coir Logs
Available in 1.5m x 200mm, 3m x 200mm & 3m x 300mm
Coir Logs are 100% biodegradable and offer an exceptional natural look that can blend into many types of garden settings. Coir Logs have been designed to protect steep surfaces from heavy water flows and sediment movement. Our logs have pre-drilled holes for quick and easy peg installation while we offer high density fibres for increased performance and lifespan.
Another common use for our natural fibre products is in film and stage productions.  We supply several large production companies with our products to simulate a natural outdoor stage setting.
Solve Erosion Issues with Coir Logs in Queensland
If you have an area of land that's suffering from soil erosion, a riverbank that's being washed away, a slope experiencing soil slippage or a site that needs the re-introduction of vegetation, coir logs are often the best solution. They can be installed on slopes, along the edges of waterways and anywhere that reinforcement, stabilisation or restoration is needed.
Features and Benefits of Coir Logs for Sale
Coir Fibre Logs ( also called: geo logs, silt berm, coir rolls, coconut fibre rolls or coco logs) are made from natural coconut fibre bound by coir fibre netting all 100% biodegradable, it is an environmentally friendly alternative to hay bales. Hay bales not only break down quickly and are harder to manage, they are often contaminated with weed seed. When the logs' job is done, they will naturally break down into the soil and provide nutrients that will help to sustain plant growth and promote the health of the ecosystem. They're strong enough to withstand high water flows and heavy rain and will leave stable and re-vegetated areas as they break down.
Coir logs are the most environmentally friendly method of controlling erosion, stabilising soil, and channelling water, far better than using plastic sheeting and other materials that don't biodegrade and may leak chemicals into the soil. They're made from 100% natural fibres that are encased in a coir twine mesh to form coir bales in the shape of a tree log.
Buying Coir Logs Online plus everything else you need
Aussie Environmental coconut logs are available in different sizes, so you can buy exactly the lengths and diameters you need. When installing several logs along a line, ensure there is no space between each one and secure the adjoining ends tightly with coir twine. Where extra erosion protection is necessary, you can also place one log behind another, each one secured in its own trench.
All our logs and other coir products including our coir peats and coir rolls provide immense strength and durability, are helpful rather than harmful to the environment and are exceedingly flexible in use. We can also supply all the accessories you'll need, particularly biodegradable hardwood stakes, so you can complete your project without the need for any other materials. Additionally, our knowledge and experience in environmental matters mean we can provide all the support you need so your project is a success.
Read More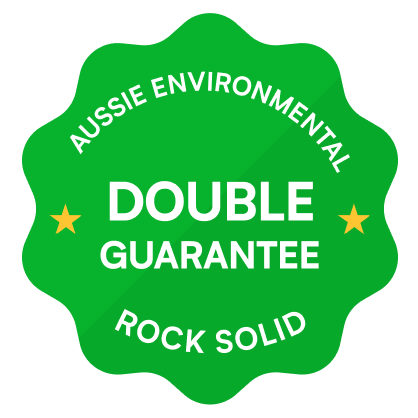 You're Covered By Our 14-Day Money-Back Guarantee
Worried about ordering online? Afraid of getting the wrong product? Our certified erosion and sediment control experts work tirelessly to ensure you get the right product for your needs, the first time around. But just in case, we also protect you with our 14-day money-back guarantee!

If you don't like your product, simply send it back to us in an unused and resalable condition in 14 days. We'll refund you every cent you paid, no questions asked!
Customer Reviews
Great Value
The Coir Logs from Aussie Environmental were cheaper than most and arrived very quickly with no fuss. Best thing though was the presence of the cardboard tubes which made staking the logs down very quick and easy. If you have ever tried to bang a stake through one of these things without the benefit of prepared holes, you would know to go for this brand in future.
Perfect solution - pre-drilled coir logs
We've just installed 8 coir logs across a back sloping part of our yard. So far, so good. The heavy mulching is staying in place after rain and as the new plantings grow around them I expect soil and mulch movement will be further protected. They were a two-man easy to install product. Thanks!
Queensland's Largest Supplier Of Direct-To-Consumer Environmental Products
If you can't find the right solution at Aussie Environmental, chances are it doesn't exist! We only provide the highest quality products across our enormous range… and we import nearly all of them ourselves. That means you'll get a reliable solution that makes light work of your issue… and you'll get it for a crazy, direct-to-consumer price!
15+ Years Experience

The Largest Range Of Environmental Control Products
Affordable Freight And Shipping To Anywhere In Australia
As an Aussie owned and operated company, we want to serve our country right. That's why we provide affordable freight and shipping Australia-wide. In the unlikely event you're unhappy with your freight cost, simply get in touch with our friendly team. We'll see if we can find you a better option, to get your product delivered on time and on budget!
Independently Imported

US Standard Products
Why We're Your Best Bet For Environmental, Erosion, And Sediment Control…
| Features | | The Rest |
| --- | --- | --- |
| Largest Product Range In Queensland | Yes | No |
| Exclusive Supplier Of Select Products | Yes | No |
| Shipping Australia Wide | Yes | Sometimes |
| Direct-To-Consumer Prices | Yes | No |
| High Quality, Sustainable Products | Yes | Sometimes |
| Recommendations From Certified Experts | Yes | No |
| Australian Owned And Operated | Yes | Sometimes |
| 14-Day Money-Back Guarantee | Yes | No |
| 10% Off Your First Order | Yes | No |