Over 52, 5 star reviews
Vertical Wall Planters
Available in 5, 9 or 15 pockets
With a Vertical Wall Hanger Planter you can transform any wall space into a hanging garden. Vertical Wall Hangers are available in 5, 9 or 15 pockets to allow you to grow various types of flowers, vegetables or herbs.
***SPECIAL!!! BUY 2 WALL PLANTERS GET 1 FREE***
Select 3 wall hanger planters in the quantity below and your discount will be applied at the checkout.
Our vertical wall baskets can brighten up even the smallest and barest outdoor space. They're great for adding colour and interest to yards, terraces and verandas, and are an extremely useful addition to any sort of outdoor space, from tiny balconies to large gardens.
Use Hanging Wall Baskets to Create a Feature Wall
All you need is a little thought and careful planning to really transform an outside space with the addition of wall hanging baskets. You can easily create a stunning feature that will look great over a long period.
Benefits of Vertical Wall Gardens
Buy our hanging wall baskets online to create a living wall that will deliver many benefits that will include:
increased oxygen levels and a reduction in nitrogen dioxide and particulate matter so you have improved air quality and better general health
insulation on outside walls that will absorb exterior heat as well as sound vibrations; this can make the interior of your property cooler in summer as well as quieter so that comfort levels are increased, and energy bills are reduced
living walls can attract butterflies and bees, increasing the biodiversity of your property
plants absorb carbon dioxide and so, the more plants you have, the bigger your contribution to improving and protecting the natural environment.
Aussie Environmental's Wall Baskets: Simple to Install, Use and Care for
Our wall planters come in a variety of sizes and capacities, so you can select the type you need to fit in your available space. The various widths and lengths can be easily combined to cover a complete wall or any size or shape of area. Installation is simple by fixing the planter to any structure using nails, bolts or clips so no great skill is necessary.
Once the wall planters are installed, simply fill the pockets with a suitable growing medium, add plants and feed to each one, then keep watered to encourage growth. The planters will soon be covered by vegetation and will no longer be visible.
The secret to a successful living wall is to choose the most suitable plants. Avoid any that will grow too tall and focus instead on those that trail, creep or climb and also include low growing species for variety. The aim is for the plants to cover the whole area and to provide a mixture of colour over a long period. Go for plants that flower for a long time, at different times or that have a variety of leaf colours or are variegated for interest.
A Wide Range of Hanging Wall Baskets
All Aussie Environmental hanging orchid baskets and coconut fibre hanging planters can be placed in any suitable position, whether full sun or shade since they're UV resistant and can withstand extreme weather. You therefore simply need to pick the plants that are appropriate for the position to ensure they thrive. You can easily fit an irrigation system to keep the plants adequately watered and all planters have drainage holes to ensure the soil doesn't become too saturated. At the end of each growing season, when the plants and growing medium are cleared out, the planters are easily cleaned to prepare for the next batch.
Transform any bare wall or fence with our vertical wall baskets and you can quickly and easily create a riot of colour and an area of interest over a long period. Best of all, there's virtually no maintenance other than regular watering so your garden or yard can be an attractive place to relax.
Read More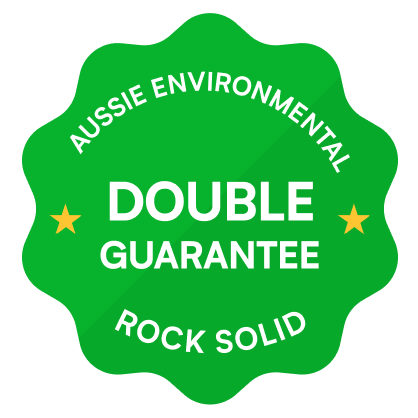 You're Covered By Our 14-Day Money-Back Guarantee
Worried about ordering online? Afraid of getting the wrong product? Our certified erosion and sediment control experts work tirelessly to ensure you get the right product for your needs, the first time around. But just in case, we also protect you with our 14-day money-back guarantee!

If you don't like your product, simply send it back to us in an unused and resalable condition in 14 days. We'll refund you every cent you paid, no questions asked!
Queensland's Largest Supplier Of Direct-To-Consumer Environmental Products
If you can't find the right solution at Aussie Environmental, chances are it doesn't exist! We only provide the highest quality products across our enormous range… and we import nearly all of them ourselves. That means you'll get a reliable solution that makes light work of your issue… and you'll get it for a crazy, direct-to-consumer price!
15+ Years Experience

The Largest Range Of Environmental Control Products
Affordable Freight And Shipping To Anywhere In Australia
As an Aussie owned and operated company, we want to serve our country right. That's why we provide affordable freight and shipping Australia-wide. In the unlikely event you're unhappy with your freight cost, simply get in touch with our friendly team. We'll see if we can find you a better option, to get your product delivered on time and on budget!
Independently Imported

US Standard Products
Why We're Your Best Bet For Environmental, Erosion, And Sediment Control…
| Features | | The Rest |
| --- | --- | --- |
| Largest Product Range In Queensland | Yes | No |
| Exclusive Supplier Of Select Products | Yes | No |
| Shipping Australia Wide | Yes | Sometimes |
| Direct-To-Consumer Prices | Yes | No |
| High Quality, Sustainable Products | Yes | Sometimes |
| Recommendations From Certified Experts | Yes | No |
| Australian Owned And Operated | Yes | Sometimes |
| 14-Day Money-Back Guarantee | Yes | No |
| 10% Off Your First Order | Yes | No |