Over 52, 5 star reviews
Jute Rope x 50 Metre Lengths
Available in 6mm, 14mm or 20mm thick rope (all 50m rolls)
Jute Rope is 100% natural, biodegradable and eco-friendly. Jute Rope is a strong quality weave, which is available in 3 widths – 6mm, 14mm & 20mm, all of which come in 50 metre lengths. Jute Rope has a wide range of uses from stabilisation of a trailer load to decorative pieces for your garden setting.
A Variety of Jute Ropes for Sale
Jute rope has a number of uses that make it extremely practical for various gardening, conservation and civil engineering tasks. It's made from jute, a natural vegetable plant that has long and soft fibres. These are spun into a strong and coarse thread that is then used to create a rope or jute twine of varying thicknesses and lengths
Benefits of Using Jute Rope and Twine
Jute is brown in colour but can be easily and effectively dyed if used for decorative purposes. When used as a traditional jute rope, however, it generally retains its natural colour.
Jute is an alternative to hemp rope and is popular partly due to its lower cost. That shouldn't suggest any inferiority since all the jute rope online on our website has exceptional characteristics that include:
Durability, with great strength that will ensure a rope can last for many years even with constant use. Jute is resistant to UV light and heat so can be used many times over, either indoors or out, without any harm.
Lightweight, so it can be easily transported and moved about, even in inhospitable terrain.
Supple and flexible, so it's easy to work with and have knots tied that will not come loose if done properly.
Soft despite its strength and so will not damage anything it is used to tie up.
Easy to use, being supplied as a coil to avoid tangling and so it can be conveniently cut to the required length.
Environmentally friendly as a natural fibre that is obtained only from sustainable sources. It will eventually biodegrade and will not harm its surroundings. It is therefore a much better alternative to synthetic rope and twine that will continue to pose a threat for potentially hundreds of years.
Why Buy Jute Ropes Online from Us
At Aussie Environmental, we do all we can to help our customers as well as the planet. Consequently, we have a wide variety of rope and twine, in different thicknesses and lengths, to suit your needs.
Because it's so strong, flexible and long-lasting, you can use it for a variety of purposes. These include garden twine to tie up plants without harming them or in conservation projects to tie jute matting together securely, to anchor tree saplings or for a host of other purposes. It will last for a considerable time in even the harshest of conditions and, at the eventual end of its life, will rot down naturally with no harm to the environment. This means you can safely use it in the most sensitive of areas with no worries about causing any damage.
Buying from Aussie Environmental means you can be assured you're getting a quality product that will do the job, is from a sustainable source and is not harmful in any way. And, since we're here to ensure you're fully satisfied with what you buy, we can give help and advice on any project in order to ensure you achieve your aims.
The amount you pay for jute twine for sale will vary depending on the thickness, length and quality of the rope or twine you buy. We can also supply coir peat, coir blanket rolls, or any erosion control products and all the accessories you'll need. Be assured, however, that you'll get a good deal here that will match our high standards and adherence to sustainability.
Read More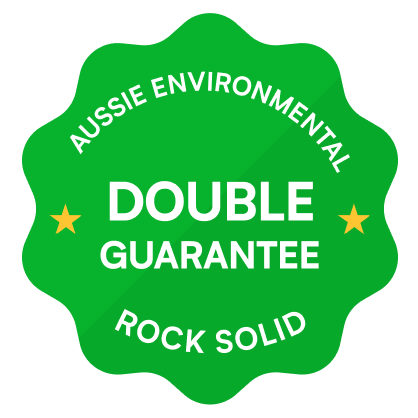 You're Covered By Our 14-Day Money-Back Guarantee
Worried about ordering online? Afraid of getting the wrong product? Our certified erosion and sediment control experts work tirelessly to ensure you get the right product for your needs, the first time around. But just in case, we also protect you with our 14-day money-back guarantee!

If you don't like your product, simply send it back to us in an unused and resalable condition in 14 days. We'll refund you every cent you paid, no questions asked!
Queensland's Largest Supplier Of Direct-To-Consumer Environmental Products
If you can't find the right solution at Aussie Environmental, chances are it doesn't exist! We only provide the highest quality products across our enormous range… and we import nearly all of them ourselves. That means you'll get a reliable solution that makes light work of your issue… and you'll get it for a crazy, direct-to-consumer price!
15+ Years Experience

The Largest Range Of Environmental Control Products
Affordable Freight And Shipping To Anywhere In Australia
As an Aussie owned and operated company, we want to serve our country right. That's why we provide affordable freight and shipping Australia-wide. In the unlikely event you're unhappy with your freight cost, simply get in touch with our friendly team. We'll see if we can find you a better option, to get your product delivered on time and on budget!
Independently Imported

US Standard Products
Why We're Your Best Bet For Environmental, Erosion, And Sediment Control…
| Features | | The Rest |
| --- | --- | --- |
| Largest Product Range In Queensland | Yes | No |
| Exclusive Supplier Of Select Products | Yes | No |
| Shipping Australia Wide | Yes | Sometimes |
| Direct-To-Consumer Prices | Yes | No |
| High Quality, Sustainable Products | Yes | Sometimes |
| Recommendations From Certified Experts | Yes | No |
| Australian Owned And Operated | Yes | Sometimes |
| 14-Day Money-Back Guarantee | Yes | No |
| 10% Off Your First Order | Yes | No |