Over 52, 5 star reviews
Dewatering Bags
Various sizes available
Dewatering Bags (Geo Bags) are sediment filter bags that are perfect for pumping and filtering sediment laden water. The product is commonly used on construction sites, waste water treatment plants and job sites to control the amount of sediment or pollution from leaving the site. Dewatering Bags provide a simple yet effective way of removing heavy particles from water before allowing silt free water to be released from the bag.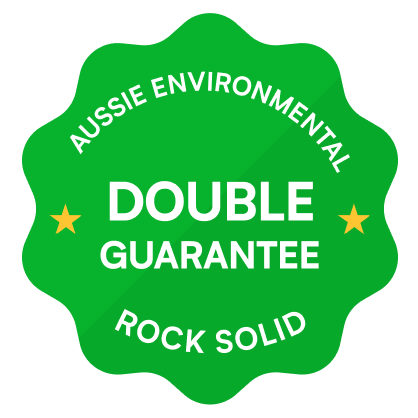 You're Covered By Our 14-Day Money-Back Guarantee
Worried about ordering online? Afraid of getting the wrong product? Our certified erosion and sediment control experts work tirelessly to ensure you get the right product for your needs, the first time around. But just in case, we also protect you with our 14-day money-back guarantee!

If you don't like your product, simply send it back to us in an unused and resalable condition in 14 days. We'll refund you every cent you paid, no questions asked!
Queensland's Largest Supplier Of Direct-To-Consumer Environmental Products
If you can't find the right solution at Aussie Environmental, chances are it doesn't exist! We only provide the highest quality products across our enormous range… and we import nearly all of them ourselves. That means you'll get a reliable solution that makes light work of your issue… and you'll get it for a crazy, direct-to-consumer price!
15+ Years Experience

The Largest Range Of Environmental Control Products
Affordable Freight And Shipping To Anywhere In Australia
As an Aussie owned and operated company, we want to serve our country right. That's why we provide affordable freight and shipping Australia-wide. In the unlikely event you're unhappy with your freight cost, simply get in touch with our friendly team. We'll see if we can find you a better option, to get your product delivered on time and on budget!
Independently Imported

US Standard Products
Why We're Your Best Bet For Environmental, Erosion, And Sediment Control…
| Features | | The Rest |
| --- | --- | --- |
| Largest Product Range In Queensland | Yes | No |
| Exclusive Supplier Of Select Products | Yes | No |
| Shipping Australia Wide | Yes | Sometimes |
| Direct-To-Consumer Prices | Yes | No |
| High Quality, Sustainable Products | Yes | Sometimes |
| Recommendations From Certified Experts | Yes | No |
| Australian Owned And Operated | Yes | Sometimes |
| 14-Day Money-Back Guarantee | Yes | No |
| 10% Off Your First Order | Yes | No |