Buy Your Star Pickets from Aussie Environmental
When it comes to buying secure fencing for your property or worksite, you will likely want to buy something durable and strong that will do its intended job.
Our black bitumen coated star pickets are designed to offer security, durability and a pleasing, unintrusive aesthetic for your fences. Based in Yandina, Queensland, we've been supplying environmental and property management goods for people all across Australia. Our fencing supplies are made only with the highest quality materials and are designed to be easily installed and easily maintained. If you want to buy star pickets then look no further!
Features and Benefits of Our Star Pickets for Sale
Whilst good timber stakes has its uses, low quality timber can splinter, crack, rot or be undermined by pests such as termites, whereas our pickets will not suffer such ill effects. The steel used in our star pickets are made with high-quality low carbon steel which is made to be flexible and durable enough to cope with the shifting earth over time.
And because low carbon is easier to produce, we pass along the cost savings to you, so you can buy more for less. When it comes to installation, star picket fences are super quick to install, all you will need is a post pounder and staple to attach your fencing to each post.
Our star pickets are designed to work best with our heavy duty silt fences or sediment fences. These are made to hold back moving sediment and silt as it travels during rainfall. The job of the pickets is to support the silt fences as they filtrate water and finer soil particles from the bulk of the silt. That means they have to be strong and durable. The fences these pickets are created to support include our high-quality UV stabilised silt/sediment fence materials and our eco-silt fences, made from biodegradable jute matting.
Other products you may want when you buy garden pegs include:
Generally, a great tool to have, this heavy-duty professional stapler will make the job of installing your pickets and fencing much quicker.
Come in boxes of 1000
These are very important if you are in a high use area and are mandatory for construction sites. Though every effort has been made to make the ends of our pickets safe, there is always the possibility of an accident. These bright yellow safety caps help to delineate the tops of the fence to keep passers-by safe from sharp edges and risk of injury.
Buy Your Star Pickets Online Now
If you are looking to buy star pickets in Australia this is the place. We specialise in erosion control products, ranging from sandbags, spill kits and more. We're pleased to have been able to offer our products to businesses all across the country. If you're after bulk quantities please do give us a call or ask for a free quote and we'll be able to advise on how much you can expect to save. Call us now!
Read More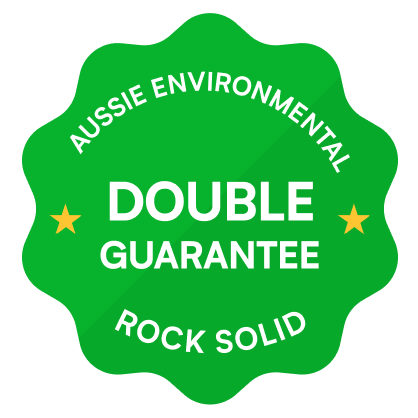 You're Covered By Our 14-Day Money-Back Guarantee
Worried about ordering online? Afraid of getting the wrong product? Our certified erosion and sediment control experts work tirelessly to ensure you get the right product for your needs, the first time around. But just in case, we also protect you with our 14-day money-back guarantee!

If you don't like your product, simply send it back to us in an unused and resalable condition in 14 days. We'll refund you every cent you paid, no questions asked!
Queensland's Largest Supplier Of Direct-To-Consumer Environmental Products
If you can't find the right solution at Aussie Environmental, chances are it doesn't exist! We only provide the highest quality products across our enormous range… and we import nearly all of them ourselves. That means you'll get a reliable solution that makes light work of your issue… and you'll get it for a crazy, direct-to-consumer price!
15+ Years Experience

The Largest Range Of Environmental Control Products
Affordable Freight And Shipping To Anywhere In Australia
As an Aussie owned and operated company, we want to serve our country right. That's why we provide affordable freight and shipping Australia-wide. In the unlikely event you're unhappy with your freight cost, simply get in touch with our friendly team. We'll see if we can find you a better option, to get your product delivered on time and on budget!
Independently Imported

US Standard Products
Why We're Your Best Bet For Environmental, Erosion, And Sediment Control…
| Features | | The Rest |
| --- | --- | --- |
| Largest Product Range In Queensland | Yes | No |
| Exclusive Supplier Of Select Products | Yes | No |
| Shipping Australia Wide | Yes | Sometimes |
| Direct-To-Consumer Prices | Yes | No |
| High Quality, Sustainable Products | Yes | Sometimes |
| Recommendations From Certified Experts | Yes | No |
| Australian Owned And Operated | Yes | Sometimes |
| 14-Day Money-Back Guarantee | Yes | No |
| 10% Off Your First Order | Yes | No |